Canyon Vista Medical Center is here to keep your heart healthy. Our goal is to reduce heart disease in our community by the use of our physicians, staff, and community education resources. Heart disease is the leading cause of death for both men and women. Every year in America, 1 in 4 deaths is caused by heart disease, that's roughly 630,000 Americans. More women die from heart disease than from breast cancer.
Next Steps
Find a Doctor
Visit our Provider Directory or call 520.497.4362
Find a doctor
Heart Attack Symptoms
Chest pressure or discomfort
Pain that travels down one arm or both
Shortness of breath
Anxiety
Nausea
Fatigue
Back or jaw pain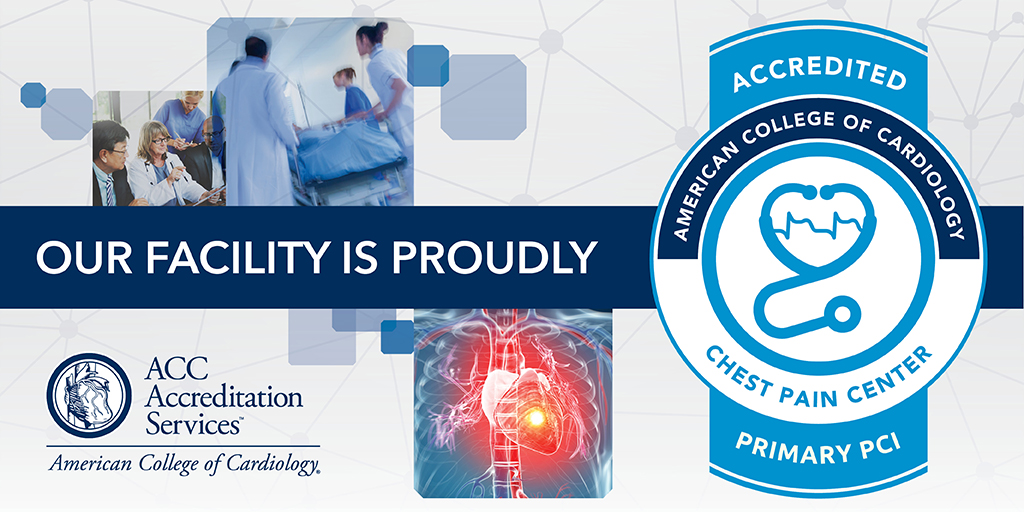 Heart attacks can happen anytime, anyplace -- and to anyone. And when they do, every minute matters.
The American College of Cardiology has recognized Canyon Vista Medical Center for its demonstrated expertise and commitment in treating patients with chest pain. Canyon Vista Medical Center was awarded Chest Pain Center Accreditation based on rigorous onsite evaluation of our team's ability to evaluate, diagnose and treat patients who may be experiencing a heart attack.
Heart disease is the leading cause of death for men and women in the U.S., responsible for one in four deaths, according to the Centers for Disease Control & Prevention (CDC). But it doesn't have to be. Through education and early treatment, heart disease can be successfully treated and, in many cases, even prevented.
The most common symptom of a heart attack for both men and women is chest pain or discomfort. However, women are more likely to have atypical symptoms. Other heart attack symptoms include, but are not limited to, tingling or discomfort in one or both arms, back, shoulder, neck or jaw; shortness of breath; cold sweat; unusual tiredness; heartburn-like feeling; nausea or vomiting; sudden dizziness; and fainting.
The good news is that everyone can lower their risk of heart disease by knowing these early signs of heart attack and practicing good preventive habits, including exercising regularly, eating a nutritious diet, avoiding smoking and controlling your blood pressure.
If you or someone you know experiences symptoms of a heart attack, contact 911 immediately or proceed to the nearest emergency room or Accredited Chest Pain Center.
---
Our cardiology specialists provide a full spectrum of services including heart failure management, treatment of hypertension, diagnostic and interventional procedures. Stay close to home thanks to our cardiology department, treating and caring for the following conditions:
Heart & Vascular Conditions We Treat
Aneurysm: a bulging or a weakness in the wall of a blood vessel
Angina: chest pain that can extend to the left arm, shoulder or jaw
Arrhythmias: irregular heartbeat (too fast or slow, skipping beats), including atrial fibrillation
Cardiomyopathy: diseases in coronary muscle tissue, including an enlarged heart
Coronary heart disease: coronary artery disease, peripheral artery disease and carotid artery disease
Heart attack: (myocardial infarction), an interruption of the blood supply to the heart's muscle tissue
Heart failure: weakened or damaged heart muscle causing the heart to work too hard to keep up with the body's blood demands
Peripheral artery and peripheral vascular disease: Narrowing of arteries that reduce blood flow to your limbs
Stroke: a blocked blood vessel depriving areas of the brain of oxygen; including ischemic and hemorrhagic strokes and transient ischemic attacks (TIAs). Since this problem ends up affecting the brain, neurologists may collaborate with the heart specialist for stroke cases
Valvular heart disease: heart valve damage caused by rheumatic fever, infections, connective tissue disorders, radiation treatments or medications