Coronavirus (COVID-19) Preparedness Information
Visitor Restrictions & Facility Changes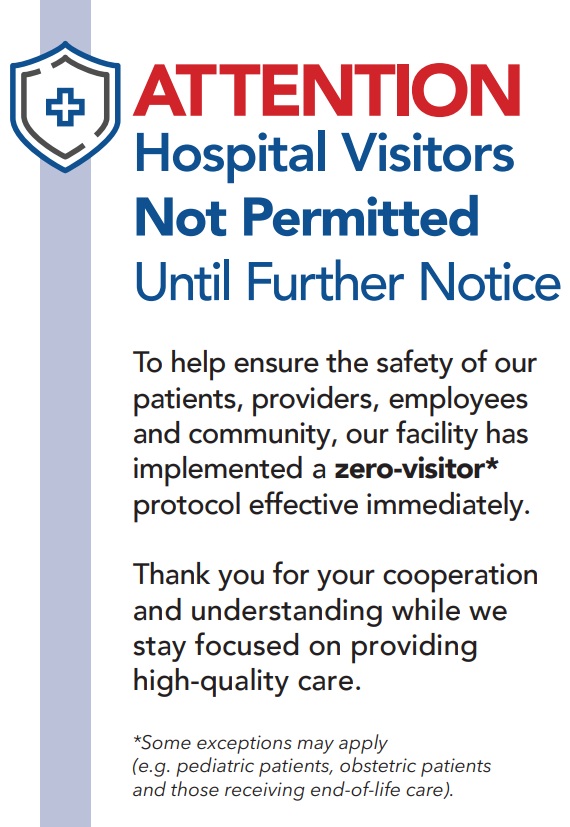 Updated December 3, 2020
We have gone to a zero visitor restriction (some exceptions may apply). We have also made the decision to have all outpatient lab and radiology services will be preformed at our Carter Imaging Center, instead of in the hospital or the Lenio Lab. The Lenio Lab station will be closed until further notice.
We have limited entry points to our facility and screening everyone – employees and patients – who enters the building. The following provides additional detail about both safety measures:
Limited Entry Points: Our main hospital entrance will be the access point for all non-emergency room patients, caregivers, providers, and vendors. Patients coming to be seen in our Emergency Room will continue to utilize the Emergency Room entrance. Beginning on Friday, July 17th we will be making changes on how to enter the facility. The main entrance of the hospital will be closed during weeknight hours and all weekend. During these times all traffic will be routed through the emergency room lobby entrance. Main Hospital Entrance is open Monday- Friday 5:00am-6:00pm for staff, providers, limited visitors, vendors and non-emergency patients. Emergency Room Lobby Entrance is open Monday-Friday 6:00pm-5:00am and all day Saturday and Sunday to staff, providers, vendors, and non-emergency patients. This entrance is always open 24/7 to emergency patients.
Screening Process: All patients, approved well visitors and staff entering the facility will be screened with questions regarding respiratory symptoms and travel history, per CDC recommendations. Anyone entering our facilities will have to wear a mask.
Screening will occur upon every entry.
These increased safety measures do NOT mean that you cannot access the hospital or your providers. Please seek medical care as needed. And if you are concerned you may be experiencing COVID-19 symptoms, call your provider in advance of going to his or her office. Of course, if you are experiencing a medical emergency, call 911 or go to the emergency room.
Canyon Vista Medical Center values the trust our community places in us, and we appreciate your understanding as we shift our visitation policies during this time.
---
Below are a number of resources to help educate you and your family on COVID-19. For more information on the virus, a hotline has been set up by the Cochise County Department of Health and Social Services at 833.670.5786.
Quick Links:
Our clinical teams are trained on the proper procedures and protocols to minimize the risk of spreading any infectious disease, including COVID-19. If we have any reason to believe a patient may have the COVID-19, our providers immediately implement the appropriate infection control measures in accordance with CDC guidelines. These include applying a mask to the patient and implementing protective isolation measures. Staff with put on personal protective equipment (PPE) – inclusive of an N95/PAPR (Powered Air Purifying Respirators), eye protection, gown and gloves – and ensuring environmental hygiene.
Importantly, all of the above are standard operating protocols that are in place year-round to help ensure the health and well-being of everyone who enters our hospital.
One of the best ways to help stop the spread of infection is to practice good hand hygiene.