We need your help: A Message to Our Cochise County Community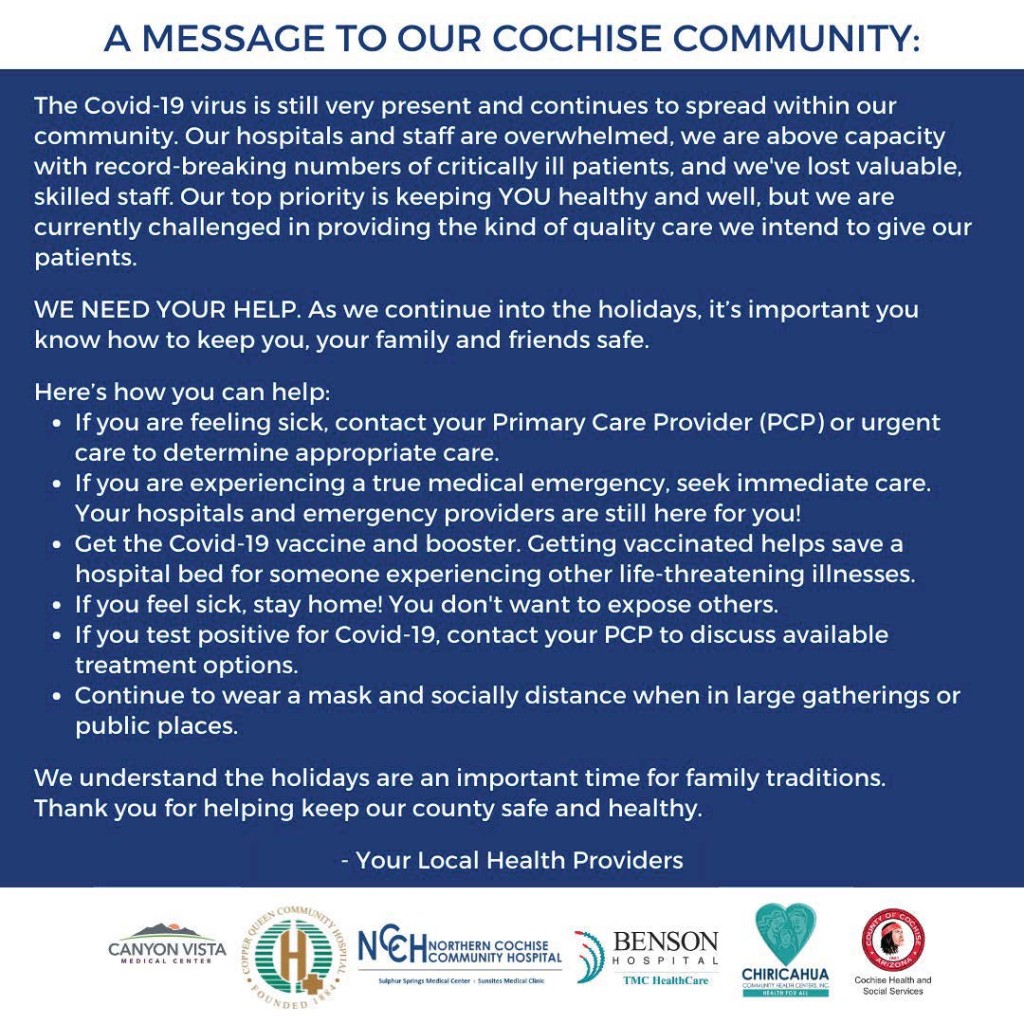 A Message to Our Cochise County Community
It's been a long, difficult two years for everyone. We are tired, we are grieving those we've lost, and we are trying our best to continue forward. Our top priority is keeping YOU healthy and well, but we are currently challenged in providing the kind of quality care we intend to give all our patients.
The Covid-19 virus is still very present and continues to spread within our community. Our hospitals and staff are overwhelmed, we are above capacity with record-breaking numbers of critically ill patients, we are having to send patients farther than Tucson to get the care they need, and we've lost valuable, skilled staff. We are doing everything we can to take care of those who need our help, but we need your help too! As we spend time with our loved ones this holiday season, it's important you know how to keep you, your family and friends safe.
Here's how you can help:
If you are feeling sick, please contact your Primary Care Provider (PCP) or local urgent care to determine appropriate care.
If you are experiencing a true medical emergency, seek immediate care. Your hospitals and emergency providers are still here for you!
If you have chronic health conditions, work with your healthcare providers to manage your health. Please don't delay care or wait until you need emergency care.
If you do not have a Primary Care Provider, care is available in Cochise County regardless of your insurance status and ability to pay.
Consider using Telehealth and other methods available to provide you with non-emergent care and treatment necessary for you to get and stay well.
We urge everyone to take the following steps to help your neighbors, family members, and friends remain safe:
Speak to your PCP about getting a Flu shot, the Pneumonia vaccine, and the Covid-19 vaccine. Get a booster if you were vaccinated more than 6 months ago (Moderna or Pfizer) or 2 months ago (J&J). Covid-19 vaccines are keeping most people out of the hospital. Breakthrough cases are leaving hospitals quickly and don't tend to require ICU care. Get vaccinated and save a hospital bed for someone having a heart attack or other life-threatening illness.
– MORE –
If you feel sick, stay home. You don't want to expose others.
Use the free COVID-19 testing sites or in-home testing kits before attending gatherings. Find your nearest testing site at testnow.com.
If you test positive, immediately contact your PCP to discuss available treatments and eligibility. Monoclonal antibody treatments often prevent the need for hospitalization or emergency room visits. Most breakthrough cases don't require hospitalization and monoclonal antibody infusion further decreases the chances of hospitalization.
Wear a mask, practice social distancing when in large gatherings and public places, and continue to wash your hands often.
For more information or questions regarding what's right for you and your family, give your local healthcare provider a call. We understand the holidays are an important time for family traditions. Thank you for helping keep our county residents safe.
Read All Posts