2023 Veterans Wall Ceremony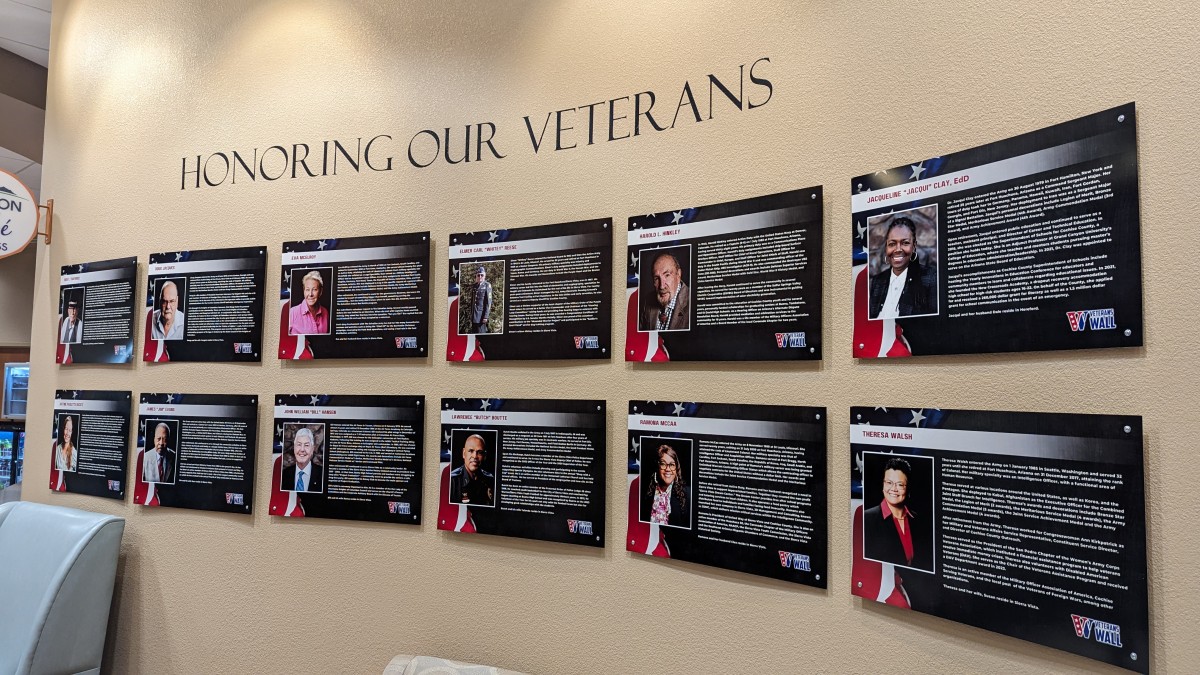 Canyon Vista Medical Center (CVMC) and the Legacy Foundation of Southeast Arizona (LFSAZ) held their annual Veterans Wall Ceremony to honor the class of 2023 honorees.
This year's class includes Lawrence "Butch" Boutte (Army), Dr. Jacqueline "Jacqui" Clay (Army), Justine Ducote (Army), James "Jim" Evans (Air Force), John "Bill" Hansen (Air Force), Harold Hinkley (Navy), Doug Jacques (Army), Ramona McCaa (Army), Eva McElroy (Army), Elmer "Whitey" Reese (Army), Ben Traywick (Navy), and Theresa Walsh (Army).
"These honorees have served our nation and then came to Cochise County to make our communities healthier," said Shaun Phillips, CEO of Canyon Vista Medical Center. "We here at CVMC are so honored to host this community recognition event in our facility. It is a touchstone for what makes Sierra Vista, and all of Cochise County, such a wonderful place to live."

For eight years, CVMC and LFSAZ have recognized former or current residents of Cochise County who have worn the uniform of the nation's armed forces and have substantially contributed to their community. The honorees have demonstrated a commitment to Cochise County through volunteering and community service. These veterans continued their military value of selfless service long after hanging up the uniform.
"Congratulations to all the outstanding 2023 honorees. Thank you for your military service and for your selfless service to the community." - Margaret Hepburn, the Legacy Foundation of Southeast Arizona's CEO.
We honor them for helping make Cochise County what it is today, with contributions ranging from coaching and mentoring the youth to assisting our displaced communities, from providing necessities to those in need to providing a haven and resources to fellow Veterans. Your work is appreciated and lifesaving.
"Year after year, I am amazed by the incredible example that is set for our country by the honorees," shared Fire Chief and LFSAZ Board Vice Chair Mark Savage. "Without exception, all of the servicemen and servicewomen recognized lead exceptional lives of service that put community above self. It is always both inspiring and humbling to witness."
The honorees will have their photo and biography hung on the Veterans Wall, located inside CVMC, for a year.
Special thanks to the committee for making this a successful event: Abe Villarreal, Committee Chair and CVMC Board Member; Jon Kosmider, CVMC Board Member; Natoyah Swift, CVMC Marketing; Natecia Daniel, CVMC Executive Assistant; Lana Tompkins-Stutzman, LFSAZ Board Director; Iwona Snyder, LFSAZ Board Director and Barbara Nichols, LFSAZ Administrative Assistant. We also want to thank Ruth Quinn, CVMC Board Chair and Dr Lanny Kope, LFSAZ Board Emeritus for their behind-the-scenes contributions.
For more information about the Veterans Wall
Read All Posts